CLOTHING FOR CLEAN ZONES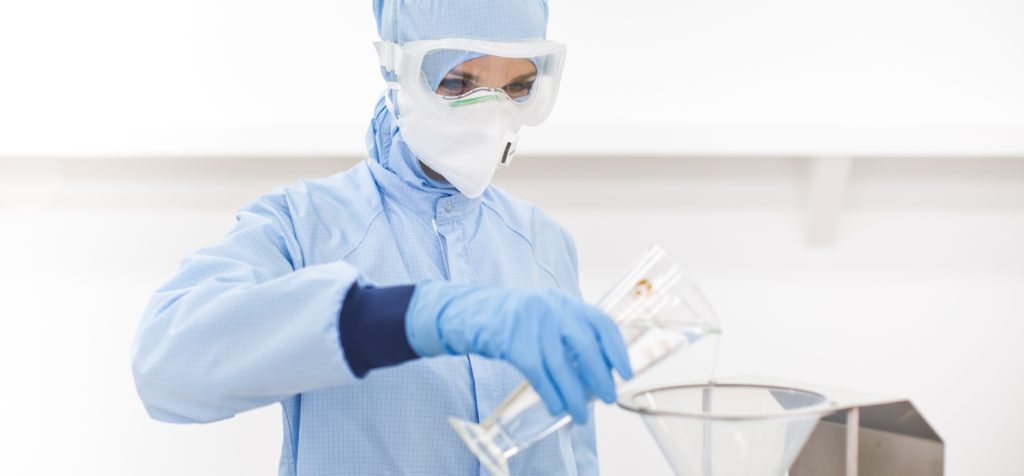 In many production and processing areas there are clean zones and clean rooms with special operating rules. They are dictated by the type of work carried out in such areas, namely the conditions that must be met for their proper and safe execution. As a rule, this is due to the use of sensitive materials, which requires a stable environment in clean areas and clean rooms, where parameters such as air exchange, temperature and humidity, number of particles measured in microns, microbiological conditions, antistatic properties, etc. are monitored.
Man - the greatest threat to clean zones
Human presence is the greatest threat in clean areas. Only appropriately trained personnel should therefore work and be authorized to stay there. Workers must also be properly equipped and adequate protective clothing for clean areas must be an essential part of this equipment. Depending on the tasks to be performed and the intended use of the room, the choice of clothing will be based on different factors. The most important criteria for selecting protective clothing are:
ensuring occupational safety and health of workers,
ensuring that the standards required by law are met,
taking into account the specific conditions of the room,
taking into account the comfort of work.
A special category of protective clothing for clean zones is dust-protective clothing. The employee using it will also need personal protective equipment that protects the respiratory tract against negative and harmful external factors.
Due to the fact that people spend several hours in clean zones, which means that they use special protective clothing, it is necessary to provide clothing that does not restrict moves or cause excessive discomfort.

The CleanGuard collection, certified according to EN 13795, EN ISO 9237 and EN 61340-5-1, is a wide range of protective clothing for use in cleanrooms with ISO 6-9 purity class.
CleanGuard products are made of non-dusting special technical fabrics with a high level of air permeability. Additionally, thanks to top-notch production technology, CleanGuard products ensure high durability and safety level.
The CleanGuard Collection embraces a wide range of products. The clothes are suitable for laundry washing in the ISO 5 cleanliness standard. Clothing retains its properties up to 50 cleaning cycles, which has been confirmed by a CE certificate of conformity.
As a supplement we also offer single-use protective clothing for clean zones inkl. hoods, caps, sweatshirts, trousers, overalls, aprons, protective shoes and shoe protectors supplementing the clothing for clean zones.
For more information on CleanGuard protective clothing See more
For products in the CleanGuard collection we particularly recommend:
DuPont™ Tyvec® IsoClean® suit,
Sterilization glasses in autoclave Uvex CR,
Purell® Disinfectant.