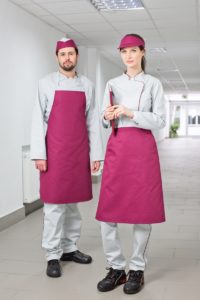 In accordance with the provisions of the Labour Code in force, the employer is obliged to provide employees with personal protective equipment. Their purpose is to protect against harmful and dangerous factors in the environment. They should be used in places where such risks cannot be avoided. In addition, the employer should equip employees with work clothes if this is required for sanitary or technological reasons of production.
Personal protective equipment in a gastronomy firm
In gastronomy firms, personal protective equipment includes, among other things, rubber gloves required for workstations in dishwashing rooms and mechanized peeling rooms. These may also include gloves made of metal fibres to protect against cuts or serious injuries. Sometimes in gastronomy an increased degree of dustiness may be a hazardous factor (e.g. in bakeries), in which case masks can be introduced as personal protection for workers, protecting the respiratory tract against the penetration of dust into the organism.
Work clothing in the catering industry
When thinking about the introduction of appropriate workwear to a gastronomy company, it should be considered first of all that it is not protective clothing – such clothing is namely intended to protect against dangerous factors. Of course, there are also workstations in gastronomy, where it is necessary to use protective clothing, e.g. impregnated aprons in dishwash rooms or insulated jackets, gloves and headgear in cold stores. Working clothes are designed to protect workers' clothes against soiling during dirty works. On the other hand, its use results from the will to maintain the highest possible sanitary standards. Various types of microorganisms, which should not come into contact with food, may remain on individual clothing. In gastronomy, workwear is used in the production of food as well as in the preparation of meals. Usually these are white aprons or whole outfits (trousers, cooking blouses, hats) fulfilling HCCAP requirements.
For more information on clothing for food service providers, please visit: www.pwkrystian.com