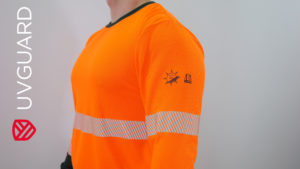 Ultraviolet radiation (UV) is a form of short-wavelength electromagnetic radiation that comes from the sun, among other sources. Overexposure to UV radiation can adversely affect our health – causing sunburn, but also increasing the risk of skin cancer. Unfortunately, working outdoors is a no-brainer in some industries.
The effects of excessive UV radiation on the skin are well documented. Workers exposed to UV radiation can experience skin reactions such as erythema, sunburn, rashes and accelerated skin ageing. Long-term exposure to UV radiation can also increase the risk of melanoma, the most dangerous type of skin cancer.
Negative effects of UV radiation
UV radiation is considered one of the main risk factors for skin cancer. Overexposure to UV radiation can damage the DNA in skin cells, which increases the risk of mutations and the development of skin cancer. Furthermore, skin cancer is one of the most common types of cancer worldwide. According to the World Health Organisation (WHO), there are about 3 million new cases of melanoma and about 17 million new cases of other types of skin cancer worldwide each year. (Cancer Today (iarc.fr)). These figures cannot be ignored. For outdoor workers and their employers, sun protection should become a priority.
In addition, overexposure to UV radiation can also affect a worker's immune system. This leads to damage to cells in the body, including immune cells – and ultimately to a lowering of the body's resistance to infection and disease. A weakened immune system can increase the risk of not only skin infections, but also other infections, such as respiratory infections.
Workers exposed to UV radiation may also experience frequent headaches, a burning sensation on the skin, or be more prone to developing skin allergies
Don't wait, prevent
It is the employer's role to provide the employee with appropriate protective clothing and PPE. It is worth noting that all clothing protects the skin to some extent – however, not all fabrics provide sufficient UV protection.
An example of adequate protection is our UVGuard collection, which blocks almost 98 per cent of the sun's rays thanks to its high UV protection factor – UPF 50+. Furthermore, it is certified in accordance with EN 13758:2+A1:2006 (EN 13758-2:2007). This thus confirms that the garment is designed for work in an environment where there is potential exposure of the worker to UV rays.
We should also remember to educate workers about the risks associated with UV radiation. In addition, if some of them do their work outdoors, it is worth encouraging