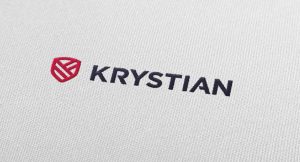 The new Krystian logo was registered for WOLDA 2017, an international competition for the conversion of a logo and visual identification. More than 500 applications from 39 countries. Krystian logo was appreciated and ranked among the top three. We received a brown medal in 'Logo redesign' category.
In order to strengthen our international position, our company have undergone a rebranding process to additionally highlight our competencies, values and strategy. The change of the current visual identification is an important element. We are sure that the new image will be accompanied not only by the change of key elements of corporate communication, but most of all by the extension, greater attractiveness and enhancement of our business offer both in the Polish and the European market – says Elżbieta Rogowska, Sales Director at PW Krystian.
Thanks to We Design Graphics Studio for the conversion of our logo, which, at last, reflects the specific character of our company. The woven shield symbolises protective products and the ubiquitous use of textiles at our company.
The first edition of WOLDA 2017 competition took place in 2006. It involves world rivalry related to the alteration of a logo. The competition is supported by more than 100 design organisations and universities from all over the world. The purpose of the competition is to recognise the best world achievements in the area of logo design and office materials. Publications in books and magazines, the Internet and social media should support the exchange of creative ideas. Moreover, one of the aims involves the organisation of workshops, congresses and exhibitions on graphic design, especially logo design. Finally, the competition should favour international contacts between graphic designers from all over the world.