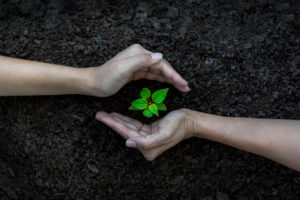 At PW Krystian we put a lot of attention to the protection of the natural environment and we try to act in harmony with the nature and the environment. For this reason, we are constantly modernizing the company's operations, reducing energy consumption and emissions of pollutants. We have implemented a number of solutions that have a direct impact on environmental protection. Eco-activities have become an inseparable element of our company's strategy.
Why is environment protection so important?
We are aware of the threats resulting from excessive use of natural resources and actively try to counteract them. We identify risks in the company and try to eliminate them in the best possible way. The introduction of actions aimed at minimizing the company's impact on the environment is possible only with the full commitment of the company and its employees. Both parties must be aware of the objective behind. The company has implemented many solutions to protect the environment, both at the production level and in the daily work of each employee.
Green activities on a daily basis
One of the activities having an impact on environmental protection is waste management. Krystian segregates waste, has a signed contract for the collection of waste and its transfer to the disposal or recycling, we also have a permit for storage and transport of hazardous waste. We have also earned a certificate confirming proper recovery and recycling of packaging waste and obtaining a license for the Green Dot Trademark. Recently, the company has also obtained an individual BDO number. It is a register and database of products, packaging and waste management.
Energy saving and future plans
Aware of how much energy the machines consume, even when they are not working, the company decided to invest in sewing machines with modern Servo engines. These engines consume energy only during operation (up to 70% less energy than traditional engines). It is equally important to realize how much electricity ordinary light bulbs consume. The company, taking this into account, is gradually replacing the lighting with energy-saving LED bulbs. Thanks to this, the consumption of electricity and the amount of waste is reduced. Already now 99.9% of the lighting in the company are LED bulbs.
Another solution having a positive impact on the environment is the installation of solar panels. Thanks to them, hot water is obtained ecologically in the whole company. This is a huge saving of electricity.
The new buildings were built in an energy-efficient construction with additional thermal insulation. Low consumption of steel, high values of thermal insulation, low energy intensity of production and assembly are the features of pro-ecological products used in the construction of halls. Additionally, the roof surface is adapted to the installation of photovoltaic panels, whose implementation the company analyses and considers.