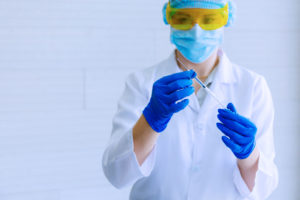 The use of medical clothing and personal protective equipment by healthcare workers is one of the basic tools for preventing the spread of infections. Aprons, sweatshirts, as well as other elements of health care workers' clothing allow to protect doctors, nurses and medical technicians from the risks resulting from the nature of their work. In addition, they make it possible to recognize staff in medical facilities, which makes it easier to turn to the right people for help.
Main functions of medical clothing and personal protective equipment
The biggest threat in health care are pathogenic microorganisms – very high risk of infection are carried by infectious hepatitis B and C viruses or immunodeficiency virus (HIV). The places where contact with such pathogenic microorganisms may occur are operating theatres, dialysis stations, intensive care units, diagnostic laboratories. Microorganisms can be transmitted with blood, body fluids, contaminated materials or medical instruments. This is why it is necessary to wear appropriate clothing and provide respiratory protection.
Medical clothing and personal protective equipment help to prevent infection of both patients and hospital staff.
What clothes and personal protective equipment should I choose?
Aprons, trousers, blouses or sweatshirts should be made of materials which will be an appropriate barrier and protection against the soaking of biological agents which are harmful to health and will prevent them from settling on the skin.
The material used for medical clothing should be resistant to soaking of blood and body fluids, as well as to penetration of microorganisms carried by these fluids. In addition, the fabric should provide comfort when worn, as well as adequate heat and moisture removal.
In addition to clothing, health care workers should be provided with personal protective equipment. One of the basic are protective gloves, protecting against both microorganisms and chemical agents. They are usually made of natural or synthetic rubber, as well as polyvinyl chloride or polyethylene. Medical personnel should also take care to protecting their eyes and face against liquids, aerosols and steam. Such protection is provided by goggles and masks.
You will find more information about protective clothes and equipment under: www.pwkrystian.com/medical