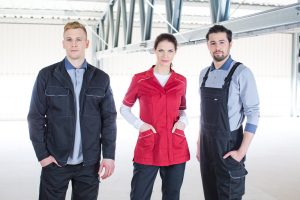 The primary function of category I protective clothing, commonly referred to as workwear, is to replace a worker's clothes and to protect them from damage or dirt. For many years, the main purpose of this type of clothing was to protect blue-collar workers from factors that were not harmful to their health. Over time, the demands placed on workwear have evolved considerably and today many companies see it as a very important element in the visual identification of their brands. It is this new function, combined with the constant challenge of matching the size to the very diverse profiles of employees, that has led to the development of the entire market segment specialised in customised sewing of work and corporate clothing. Krystian is one of the first manufacturers in Poland specialising in the preparation of custom designs and sewing according to the patterns of clothes adapted to various types of work. For almost 30 years our designers and experienced tailors have been undertaking the most demanding projects. Custom sizes, a variety of cuts combined with innovative materials and product personalisation are the three most important trends that set the directions of development in this area.
Custom sizes and improved ergonomics
Employees are very diverse. Some are tall and others are short. It is very difficult to find two people of the same size. A company that specializes in custom-sewn clothing is much more effective in responding to the size needs of employees of both genders and is able to create clothes in which everyone will feel at ease. Moreover, the production of women's clothing is much more demanding due to their more varied figures, and it is therefore much more difficult for companies which employ mostly women to select a universal cut for their female employees in their finished product range. Workwear must first of all perform its function, but a woman should also feel good in it. In addition, women pay more attention to the fit, details and finish of clothes in which they work. Krystian is able to respond to the most sophisticated individual needs.
We know very well how important it is to adapt clothes to the anatomical needs of employees, depending on their size. Our designers also attach great importance to ergonomics! We use designs with profiled elbows and knees that allow for a wider range of movements. In addition, our clothes often have additional ventilation openings for optimal thermal conditions.
Variety of cuts and innovative materials
Aesthetics of workwear is a very important factor. Nowadays, fashion reaches even workplaces. Everyone wants to look good, also in their work clothes, because they spend most of the day wearing them. High-quality work clothing is not only characterised by an interesting design, but is also enriched with details improving its functionality (pockets, grips and compartments). Customised sewing also provides a very wide range of possibilities in terms of the material used, its type, colour and weight. As a manufacturer we can sew the same work jacket from an environment-friendly fabric made of plastic bottles, from industrial denim or from a waterproof material coated with a special membrane. Our designers, thanks to specialised design tools, can respond to the individual needs of all customers, even the most demanding ones.
Product marking and personalisation
In the segment of custom-sewn workwear it is also very important to be able to personalise the products, regardless of the selected design or length of the series. Implementation of a project for a specific order enables full individualisation of products. Currently, it is very popular to mark specific clothes with the names of designated employees. Such markings are usually made by computer embroidery, thermal transfer or sublimation. Very often "custom" sewing is also chosen by customers who would like to put more than just a logo on their company clothes. More and more often customers also require specific labels, bar codes or chips to be sewn into their products.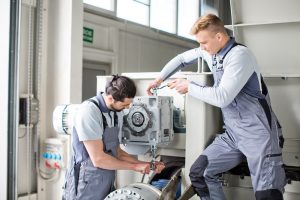 Why do companies choose tailor-made workwear?
The main reason why employers choose custom-sewn workwear is the individual approach. Customer can be certain that a unique design has been prepared exclusively for them. After becoming familiarised with the character of a given company and determining its clothing needs, the manufacturer is able to select the most appropriate fabrics, a cut which guarantees ergonomics and colours that reflect the company's character.
We have completed many projects, often very demanding ones, which were a great challenge for us. We know that with our resources in the form of managerial staff, designers and sewing room employees we can offer our Customers specialised solutions necessary to ensure safe work in any job, in a relatively short time. During nearly 30 years of presence on the market, our company has completed a variety of orders. We have completed numerous projects, such as uniforms for leading drugstores, labcoats for a pharmacy network, work sweatshirts and trousers for a well-known car manufacturer, a set of work clothes for dairy workers and a valued producer of passenger lifts, as well as t-shirts, polo shirts and trousers for popular retail chains.
Workwear does not have to be a featureless boring grey uniform. Those times are long gone. Employees spend most of their day wearing these outfits and because of that they should be tailored to their individual needs so as not to cause discomfort. Uncomfortable, poorly cut clothes can distract employees and reduce their productivity. Regardless of the nature of the company's activity, appropriately selected and properly labelled with logos work clothing creates a coherent image of the company and determines the professional status of numerous groups of employees.