Computer embroidery enables the creation of equally precise and spectacular designs as in hand embroidery. Due to the short lead time and large manufacturing scale the computer decoration technology is commonly used in the clothing industry.
Embroidery, as an artistic craft, dates back to prehistoric times. China, where remains of the first embroidered designs have been found, is considered a cradle of this clothing decoration method. This technology has experienced periods of both development and stagnation, and in the 21st century it again entered a growth phase thanks to the rapid technological progress.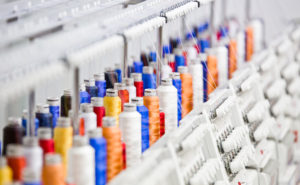 Today this craft mainly requires knowledge of modern graphics applications where samples are prepared for final production.  An important role is played by the stage of graphics development in a computer program, where appropriate colour parameters and size are set and the way of stitching is designed using the vector method. Modern embroidery machines are multiple-head "masters" which create unique designs using advanced machinery. Accuracy, speed and work safety are only several of the most important features necessary in the manufacture of computer embroidery. Combining staff competence in exhibition capabilities of the materials and appropriate embroidery equipment and software makes it possible to achieve a spectacular final effect.  In addition, the aesthetic qualities and stability of the embroidery is guaranteed by high-quality threads and embroidery additions.
In the case of the manufacture of protective clothing of very high importance is also the broad selection of thickness and variety of thread types which allow the creation of designs resistant to industrial washing. For example. for marking clothes from FlameGuard, MultiGuard and ArcGuard collections we use flame retardant aramid threads whose properties meet requirements of flame-spread protection standards. Krystian also makes embroideries with metallised and fluorescent threads, which give a unique final design effect. In the case of very small elements it is also necessary to select correspondingly thin threads. In addition, for the embroidery process to run smoothly it is necessary to use for these elements needles with a specific thickness. Specialised companies, such as Krystian, are able to make embroideries even on difficult materials which require an individual approach. Thanks to our many years of experience, we are able to use methods which allow us to obtain a stable embroidery both on knitwear and very thin materials.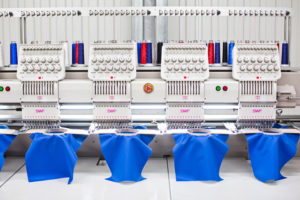 Interlinings, i.e. underlays of the embroidery, the type of which we select according to the fabric on which the design will ultimately be placed, play an important role in the process of marking protective clothing. Properly used bases play an important role in the process of embroidery manufacture because they are largely responsible for the final appearance and stability of the embroidered design. Furthermore, decorations on clothing which is directly in contact with the user's skin are protected with a special interlining which protects the body from irritation.
Another method used for decorating protective clothing are embroidered emblems, i.e. embroideries placed on a piece of fabric trimmed on an embroidery machine, which after final treatment are attached to clothing using various methods. This method is recommended especially for marking waterproof clothing intended for industrial washing. The place where the emblem is attached to the fabric must be properly protected so that the final product does not lose its waterproof properties. Krystian also uses the embroidered emblem method to make name tags (personal identifiers), used to mark work clothing in large companies.
Modern marking of specialised work clothing using the embroidery method requires maintaining consistently high quality and precision at each production stage. Krystian creates products that guarantee safety in very varied work conditions. This is why we care even for the smallest details when we make all our products.