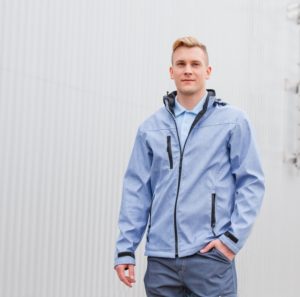 Jeans are one of the most popular trousers in both women's and men's wardrobes. They are loved by everyone, regardless of profession, financial status, age or style. This American type of work trousers sewn from cotton denim fabric and made in twill weave is very popular both in the sports, casual and working version.
Jeans at work
Due to the versatility of this clothing type some companies use jeans to complement a corporate shirt or sweatshirt. Many of us also wear jeans every day at work, and there is nothing wrong with it as long as we work in the office and the company's organizational culture allows this form of clothing. However, choosing this type of trousers as work clothing for employees of car repair shops, technicians or operators is not the best idea. Although denim is a natural material that is extremely resistant to damage, this fabric is not suitable for professional industrial use due to its dyeing process.
What is industrial denim?
Denim gained popularity among employees at a time when trousers were required first of all to be durable and the standards for keeping workwear clean were lower. In the twenty-first century, expectations for work trousers did not change, but the requirements related to appearance and comfort of use did increase. It quickly became clear that dyes used in the production of the popular jeans cannot be used in workwear due to their very low durability. If we want to supply blue-collar workers with denim work trousers, we have to look for models made of industrial denim. This fabric differs from its traditional prototype mainly in its dying method.
Thanks to the dye fixing process this fabric, which can be used for sewing work trousers that look like jeans, does not become discoloured. In addition, sanforization processes ensure that the trousers retain their dimensions after washing and drying, even in tumble dryers. Work trousers made of industrial denim look like ordinary traditional trousers, but are distinguished by their durability and high resistance to wearing through.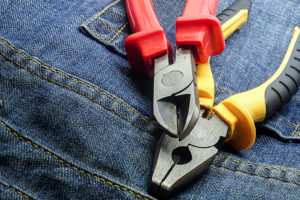 Fashionable material matters
Industrial denim gained popularity in various industries. It is chosen by employers who value the opinion of their employees, as well as a modern and less formal image. These trousers are characterized by a more casual look and a better fit. They also provide comfort and freedom of movement, which are necessary at work. Jeans are most often worn by employees of chain stores, cleaning firms as well as service and technical sectors, but they are also used in many different industries. Work trousers which look like jeans are durable, resistant to all kinds of damage and reinforced with stitching in sensitive areas.
Ensuring comfortable working conditions for blue-collar workers is inextricably linked to the choice of appropriate work trousers, which affect both the pace of work and job satisfaction. Work trousers made of industrial denim combine these functions, which is why employers choose them so often.
Krystian offers a wide range of jeans for people who want to look modern at work without compromising the functionality and durability of clothing. Check out our newest collection of denim clothes https://www.pwkrystian.com/product-category/corporate-clothing/