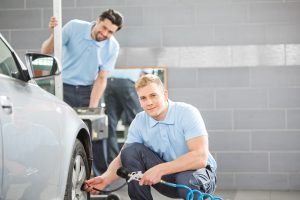 A car repair shop is a place where mechanical and electrical repairs of vehicles are carried out, as well as a number of other activities, among others on the powertrain, chassis, bodywork, etc. Therefore, it cannot be assumed that there is one general pattern of workwear for workshop workers. The outfit as well as personal protective equipment such as boots, glasses, air-filtration masks and half-masks, protective gloves and coveralls should be adapted to the workstation as well as to the machines, equipment and technology used at those stations. However, we can distinguish features which should be common for workwear regardless of the workstation operated by the workshop employee.
What should a workshop worker's workwear include?
The main element of workwear is properly selected clothing. It should be made of good-quality materials – durable, tear-resistant and resistant to contamination with lubricants and oils. It is advisable to take into consideration the durability of seams, so that the risk of damage to the clothing during work is much lower. Preferably, the material of which the clothing is made should be easy to keep clean. Please note that fabrics can vary significantly and guidelines for maintaining their protective properties are also very different. It is worth noting that not every clothing can be washed in a home washing machine.
The equipment of a workshop worker should consist of workwear (in the form of a shirt, trousers, sweatshirt or protective coveralls) which ensures adequate ventilation and freedom of movement. Car repair shop workers also appreciate trousers equipped with soft knee pads. This addition is very important for anyone who works in a kneeling or half-kneeling position.
In addition, in winter, when work is carried out outdoors,outer garment should also be provided to protect against cold and precipitation. A reflective warning vest will also be required for employees who work outdoors, e.g. in a yard where other vehicles are moving.
When assembling work clothes for repair shop workers we should not forget the right footwear. Above all, it should ensure comfort when performing one's job. The key is the sole – preferably thick and made of the right materials that provide both good cushioning and high slip resistance. For some of the hazards in a repair shop an anti-puncture insole is also important. In addition, footwear should have reinforced toe caps to ensure protection of the toes in case the worker hits a heavy structure or a heavy object falls on his foot. When choosing shoes for employees, it is also worth taking into account the place of work. For example sandals are a good solution for work in a workshop, whereas protective brogues or chukka boots are better suited for outdoor work.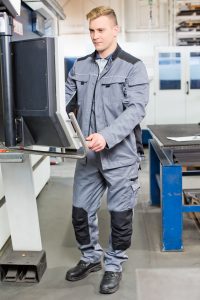 How to choose appropriate personal protective equipment for car repair shop workers?
Protective gloves and coveralls for short-term use, which effectively protect against difficult to remove dirt (e.g. from lubricants, oils, etc.) and dangers such as cuts, abrasions and burns, are also an essential part of workwear in car repair shops. It is advisable to take into consideration the technical parameters of gloves and coveralls, so that they correspond both to the specific character of the work carried out and to the risks at workstations. Some gloves will be used for mechanical work in dry environments and others in oily environments. Yet another gloves are used for painting work. It is also important that the products do not contain silicone, especially for painting work. Otherwise, the so-called cratering effect may occur and the workshop will have to carry out the painting work from scratch.
The equipment of persons employed in a car repair shop can be additionally complemented by appropriate personal protective equipment, e.g. glasses, helmet shields or goggles, which protect the wearer's eyes against chemicals or possible chipping. Helmets (to protect the head from injury) or ear protectors such as earmuffs and earplugs (to protect against noise) will also be of use. In addition, persons repairing bodywork or carrying out painting work should also be provided with masks and half-masks to protect the respiratory system, nose and mouth against dust or inhalation of chemicals.