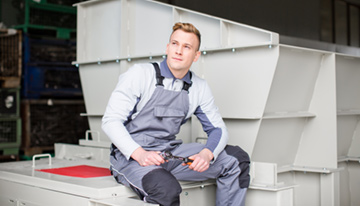 Trousers are often a forgotten part of an employee's outfit. However, the role they play is as important as the role of t-shirts, sweatshirts or outer garment. Depending on the performed work, work trousers can fulfil either a functional or image-related role. In trousers used for image purposes the most significant feature is the design and colour adapted to the employer's visual identification, while in functional trousers practical solutions facilitating the wearer's work matter the most. They are most often used by construction workers, fitters, service technicians and mechanics in workshops. A sense of comfort at work is of great importance and has an indirect impact on workers' productivity. Uncomfortable clothing that is not suited to the environment may limit an employee's ability to perform his or her professional duties.
What makes work trousers practical?
According to our observations pockets are the most important parameter taken into consideration when choosing this type of work clothing. What counts is both their number and their type. Practical trousers designed for work are usually equipped with two side pockets and cargo pockets (spacious thigh pockets), which can have different cuts. There are bellows models – protruding, flat, loose hanging or a long narrow side pocket. Rear pockets are also often used and will also serve as additional reinforcement. Work trousers are also available with detachable pockets in the form of tool belts.
There are also models available on the market that are equipped with various additional holders to which it is possible to attach tools necessary for manual work, such as a hammer, screwdriver or knife. Products dedicated for work at heights are also equipped with ropes, springs and hooks, which are attached to the loops or pockets. In accordance with the Regulation of the Minister of Economy, Labour and Social Policy of 30 September 2003 amending the regulation on minimum occupational health and safety requirements for the use of machinery by workers at work, such work trousers must be designed in such a way as to additionally prevent tools from falling where such a fall may cause harm to other workers.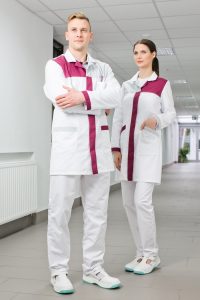 In addition, functional work trousers very often also have knee pads (in the form of a soft insert attached by means of Velcro fasteners or a reinforcement sewn on the knees). This addition is very important for anyone who works in a kneeling or half-kneeling position: roofers, tilers and service technicians. If you are looking for a product of this type, you should search for a product certified according to EN 14404.
In the case of work trousers, reflective elements that increase the worker's visibility are also important. Ventilation openings are another significant detail. They are made as small sewn holes or zips with a mesh sewn on the sides of the trousers. Practical work trousers should also be protected against abrasion in sensitive areas. Currently, models with a bottom cordura finish, which protects the legs from fraying, are also very fashionable. Another trend on the market is adjusting the width of the leg, which can be seen both in men's and women's trousers.
The most popular work trousers in Poland are bib and brace trousers. This model is often chosen by employers because of its easy adaptability to different figures of wearers. Bib and brace trousers are much more versatile and do not require any additional strips. However, trousers are more preferred by younger users. They are also more likely to be chosen by couriers or security industry employees.
What else should you pay attention to when selecting work trousers?
– comfort – it is really very important when selecting the right model. Choose cuts that allow freedom of movement during work and do not cause pressure.
– material – work clothes are worn every day at work, so what they are made of is very important. Trousers should not only be durable, but should also provide adequate air circulation. It can also be an advantage if the fabric dries quickly after washing.
When planning the purchase of work clothes for employees, remember about all clothes. Trousers are just as important a part of clothing as jackets and shoes. They are key to comfort at work every day – that is why it is worth to focus on good quality products, appropriate size and durability.