The Safe at Work Coalition, whose members include companies PW Krystian, CWS-boco, LafargeHolcim, TenCate Protective Fabrics, SEKA S.A. and Inter Cars, won the prestigious SABRE Awards EMEA 2017 for the best communication campaign ran in the Baltic region (which includes Poland, Lithuania, Latvia and Estonia). This year's winners were selected from over 2,400 entries. Joanna Kuźmicz with the public relations agency FleishmanHillard Poland, who coordinates activities under the initiative, received the award on behalf of Coalition members at a gala in London.
– Krystian has been an active member of the Safe at Work Coalition since 2014, when it was founded. I always knew that the Safe at Work Coalition had a very large potential and was a unique project in the area of education and promotion of safe work principles. I am very glad that the initiative has also been noticed internationally. Especially since this year only two projects from Poland received the award – says Elżbieta Rogowska, Krystian's Commercial Director.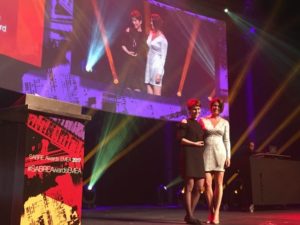 The goal of the activities of the  Safe at Work Coalition is to popularise issues related to occupational health and safety. A knowledge sharing platform, on which every specialist, as well as any OHS aficionado, has free access to experts' articles, industry news and analyses and interpretations of laws, was created as part of the project. The main activities of the Coalition are a cyclical opinion survey, which covers the entire Poland, "Work Safety in Poland" and OHS Staff Championships – the biggest competition in Poland for everyone interested in OHS.
The Safe at Work Coalition was established on the initiative of four companies: CWS-boco, PW Krystian, LafargeHolcim and TenCate Protective Fabrics. In 2015 the Coalition was joined by SEKA S.A., and in 2017 – by Inter Cars.
SABRE Awards is the most prestigious award in the PR industry. Every year the best projects from around the world are rewarded.
Additional information in the project is available on the website: http://bezpieczniwpracy.pl/
More on SABRE Awards: https://www.holmesreport.com/events-awards/sabre-awards/sabre-awards-emea