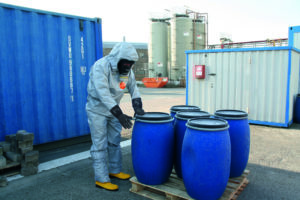 Protective coveralls were created to ensure a high level of protection during work activities. They cover or replace personal clothing and their main purpose is to protect the worker from chemical, biological, mechanical, thermal, electromagnetic and electrical hazards. Coveralls often win against other elements of protective clothing thanks to their design, which provides additional protection against uncontrolled loss of parts of clothing by workers performing particularly dangerous work.
Krystian's offer includes both disposable and reusable protective coveralls. In our range of disposable models we have protective products with different classes of penetration of particularly dangerous substances, designed for work with biological agents or in conditions requiring flame-retardant clothing. We recommend DuPont coveralls in particular for laboratory work and cleanrooms.
Reusable protective coveralls
In our collections we have numerous models of coveralls designed for work in Ex explosion hazard areas. Our clothing protects against thermal effects of explosions, which can cause very serious burns or even death of anyone located in the vicinity. TermGuard coveralls are made of materials characterised by permanent flame spread protection, usually DuPont™ Nomex® fire-resistant fibre which offers protection in the event of fire hazards.
Among protective coveralls available on the market there are also acid resistant models which protect against hazardous substances. They are made of plastic-based materials covered by a special fluorocarbon coating which provides an effective barrier to acids.
Due to their broad range of protection another very popular choice in Krystian's product range are multi-protective coveralls. Depending on the model, our customers can choose clothing with a wide range of features such as: electrostatic discharge protection, acid resistance, flame spread protection, electric arc protection and water resistance.
Disposable protective coveralls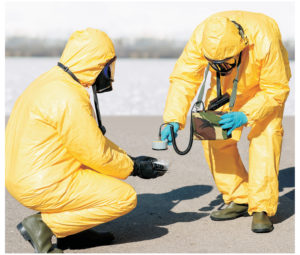 Protective coveralls for short-duration use, often referred to as "disposable protective coveralls", were designed to protect people, processes and products. These products protect workers against chemical compounds, asbestos, dust and fibres, chemicals used in the agriculture and heavy industry as well as paints and varnishes. They protect demanding production processes and products, e.g. in cleanrooms or in the production of pharmaceuticals, as well as foodstuffs against contamination by staff. In addition, this clothing protects against contact with concentrated organic compounds and inorganic acids and bases as well as salt solutions. Furthermore, penetration tests using blood and virus simulants have shown that the specialised material used to manufacture disposable coveralls protects the wearer from other people's body fluids and pathogens.
Key advantages of disposable protective coveralls:
Very light material which does not restrict the freedom of movement
Guaranteed 100% cleanliness (new coveralls every time)
Excellent protective properties
Long service life
No washing, maintenance or repair costs
Low purchase costs
Small size and low weight (minimum place needed for storage)
Simple disposal process
How to select the right disposable protective coveralls?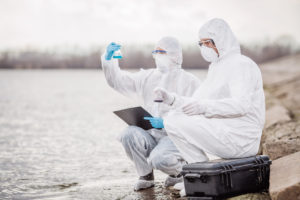 The protective coveralls must first of all be sewn in a way that makes them comfortable and prevents them from interfering with the work of the person wearing it. The cut and size must allow sufficient freedom of movement. There are also numerous important details: stitching reinforcements, tight-fitting hood as well as well-fitting holes for feet, hands and the hood.
DuPont is one of the most popular manufacturers of specialised protective clothing for short-duration use in the market. Its coveralls, especially those made of Tyvek® nonwoven fabric, are widely used in industrial production and in contact with hazardous substances. Tyvek® nonwoven fabric reliably stops all kinds of dirt and even microscopic fibres. It is steam and water-vapour permeable and provides a barrier to liquids and aerosols. This very light material does not fray and does not contain silicone, and is also available in an antistatic version.
DuPont's Tyvek® protective coveralls are characterised by:
good protective properties – guaranteeing a tight barrier that stops particles above 1 micron as well as pressurized liquids and aerosols,
durability – they are exceptionally resistant to tearing and abrasion, which allows them to retain their protective properties even under extreme operating conditions,
comfort of wear – materials used in the production are "breathable", i.e. air and water-vapour permeable,
protection against pressurised liquid jets – they are resistant to high-pressure water columns, and they are compliant with the requirements for liquid tightness for type 3 and 4 protective coveralls according to European standards for chemical protective coveralls,
no adhesion of particles or fluids – the surface of the material prevents a number of organic and inorganic liquids from getting inside it, and particles do not adhere to it.
We should also keep in mind that not all coveralls, which are manufactured in accordance with European standards, offer the same protection. Their degree of impermeability to particles and substances as well as their durability and comfort of wear can vary greatly from model to model.