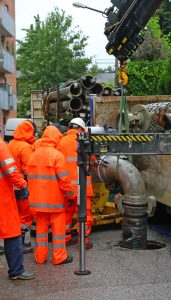 When choosing protective clothing for employees, it is advisable to follow not only the guidelines set out in the standards that apply to business owners, but also to ensure the comfort of its future users. This is why when selecting rainwear it is good practice to check the parameters that are important from the point of view of its use.
 Waterproofness, i.e. the penetration level of the clothing
Rainwear that protects workers from precipitation should be first of all waterproof, as defined in standard EN 343. According to that standard, waterproofness is the resistance that water encounters when penetrating seams and fabric – both through new material and after washing, abrasion, repeated bending or contact with agents such as fuels and oils. This parameter is measured by the amount of hydrostatic pressure acting on the material and determines the product's resistance to various types of precipitation: from light rain to heavy rainfall. Standard EN 343 also introduces a division into 3 watertproofness classes, for which the necessary requirements and tests are specified in detail, to which all personal protective equipment protecting against bad weather, in particular against rain or snow, must be subjected.
Class 1 – low (Wp≥8000 Pa – non pre-treated material)
Class 2 – average (Wp≥8000 Pa – pre-treated material)
Class 3 – high (Wp≥13,000 Pa – pre-treated material)
Clothing breathability level, i.e. resistance of the product to water vapour penetration
The extent to which air circulation is ensured also influences the wearing comfort of rainwear. Ensuring that workwear is sufficiently breathable will allow workers wearing it to perform their duties comfortably. Jackets or trousers that prevent water vapour penetration cause increased sweating of the body, and in such conditions employees feel increasing discomfort. Product breathability level (Ret) is also defined by standard EN 343, which divides waterproof clothing into 3 classes:
class 1- (low air circulation parameters) – Ret < 40
class 2 – (medium air circulation parameters) 20 < Ret ≤ 40
class 3 (high air circulation parameters) – Ret ≤ 20
Water vapour resistance parameters are crucial for the wearer of rainwear. Class 3 clothing makes it possible to provide the highest level of thermal comfort. Low water vapour resistance enables evaporation of sweat secreted by the body. When using class 1 clothing with low breathability and thus low level of thermal comfort, the duration of use should be limited depending on the temperature of the working environment and the energy expenditure of the worker. The EN 343 standard specifies in a table the maximum time of wearing clothing protecting against precipitation, depending on the water vapour resistance class and average energy expenditure of the employee.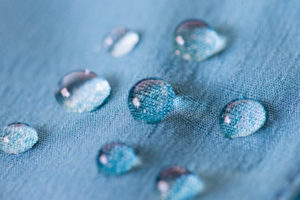 Material with a membrane
The comfort of work in rainwear is also determined by the material of which it is made. In order to meet the requirements of the already mentioned standard EN 343, various types of vapour-permeable membranes are used in the production of clothing protecting against precipitation.  The membranes are characterised by high resistance to water penetration and high water vapour permeability. In addition, they are wind-proof, which prevents heat loss.  These thin semipermeable coatings may take the form of an additional layer on the material (laminated or polymer-resin-coated fabrics) or the form of a so-called 'loose liner' between the outer layer and the lining.
Depending on the chemical composition, the following types of membranes can be distinguished:
Teflon (PTFE)
polyester
polyurethane
Finish and additional details
When buying a jacket or trousers to protect against precipitation, it is also a good idea to consider the quality of workmanship. In the case of rainwear, other very important details are glued or laminated seams and rubberised or coated zippers that prevent water from penetrating the material at the point of contact between the fabric and the finishing accessories. The hood is also a critical part of the raincoat, which must not hinder the worker during work while protecting his head from the rain.
It is worthwhile to take a cautious approach to the choice of clothes for employees, because their quality and standard of workmanship have a direct impact on the effectiveness and comfort of their work. You can hardly expect a high level of commitment from an employee in a jacket that does not ensure proper air circulation. A person working in wet trousers will get cold after a short time.