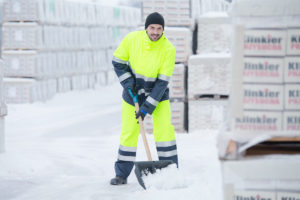 Works carried out in the autumn-winter season are associated with the exposure of people to unfavourable weather conditions. Low temperature, strong, cold wind or precipitation have an impact on comfort, safety and productivity. That is why it is extremely important to choose the right protective clothing to ensure both safety and optimal thermal comfort.
What to pay attention to when choosing insulated protective clothing?
The choice of protective clothing used in winter is very wide: insulated trousers, dungarees, vests, jackets and overalls. The type of chosen garment depends on the place, character and conditions of the work. Parameters of an effective and resultant thermal insulation, as well as breathability, allow optimal selection of clothing model for the way and place of performing official duties. It should be remembered that winter clothing must protect the employee's body, ensuring comfort and safety, not only from low temperatures, but also from strong, freezing wind or precipitation, as well as from sweat. This is why such garment should be waterproof and ensure proper air circulation. In the case of insulated clothing, a large role is played by the fabric weight – the bigger the better.  When choosing an insulated jacket, one should pay attention to the seemingly unimportant elements such as: cuff welts, tunnel in the waist to ensure fit to the user's figure or a windproof hood, as well as numerous pockets. These elements ensure comfortable work in adverse weather conditions.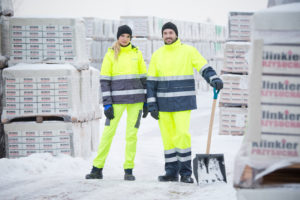 – In winter, protective clothing is primarily intended to protect the employee from frostbite and cold. PW Krystian offers a collection of WinterGuard protective clothing certified according to EN 342 and EN 343. It is a wide range of category II clothing designed for comfortable work in temperatures below 0 degrees or in bad weather conditions. Our specialists will help you choose the right clothing for your work. WinterGuard products are perfect for outdoor work in winter as well as in closed spaces such as cold stores or unheated areas. – says Elżbieta Rogowska, Vice-President of the Management Board for Operations.
In winter, employers are burdened with additional obligations related to the need to provide employees with appropriate working conditions. The basis is the selection of special clothing with ergonomic cut and properties ensuring thermal comfort. Low temperatures, snowfall or icing are not circumstances that exempt the employer from the duties of health and safety – quite the contrary. Every effort should be made to ensure that work in such conditions, which is not pleasant but necessary, is the least burdensome for the employee.
More information on protective clothing can be found at www.pwkrystian.com/winterguard